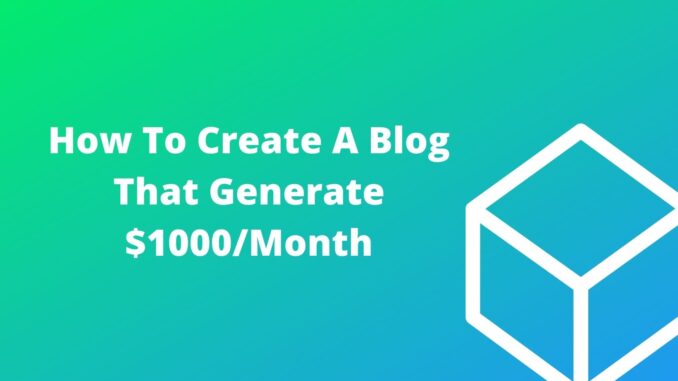 Blogging is a wonderful thing that can help you to share your message with the world. But more than that, it can also be a tool for making money online and it can be a great way to build up a strong community of people that you can then launch other products and services to.

If you regularly read blogs yourself then you'll already begin to understand why blogging is such a powerful tool from a business perspective. A good blog will get readers coming back time and time again.
It will draw them in and be both entertaining and useful at the same time – and if you can become to the 'go-to' blog in your niche then all sorts of magical things can start to happen. You can make money from the blog directly (for example by selling advertising space) or you can use it to drive traffic to other websites (for example your own products/service or those you are promoting as an affiliate).

The truth is that getting started as a blogger is pretty straightforward, however there are also a lot of different things to think about.
In this book we are going to show you how to set up your own successful blog. From choose a niche, through to setting up WordPress and showing you how to come up with great ideas for blog content, we've got you covered.
Ready to get started?
Let's dive right in…
Why Start A Blog?
A successful blog will take time and commitment, but it can be extremely rewarding and profitable. If you're willing to put in a little work, you might gain more out of a blog than you expect. Keep reading to find out some of the reasons you may want to start a blog.
Make Money:
Many people make money – whether that's directly or indirectly. There's a wide range of earnings, and how much money your blog can bring in will depend on a number of factors, including how much traffic your site gets and how you monetize it.

Effective networking, an established following, and high-quality content will help a blog to generate more money. Some people earn thousands per month from a single blog, and a number of successful bloggers have made blogging their full-time career.

Whilst you shouldn't expect your blog to earn lots of money immediately (it requires a lot of dedication and hard work to become a successful blogger), a blog can be monetized in a number of ways…

You can sell advertising space on your blog to other businesses and bloggers. You can promote your own products and services on your blog, and you can promote other people's products as an affiliate to earn commission on sales (affiliate marketing).
You can also use a blog to build up an email list, which you can then use as an additional means of marketing.
How To Choose Profitable Niche For Your Blog
When you first start blogging, you'll hear a lot about choosing a niche. Your niche encompasses both the subject of your blog and the target audience who will be reading it.

Choosing the right niche will help make writing your blog both enjoyable and profitable, but the question remains: how do you choose the right niche?

There's no one formula for finding the perfect niche, but the following guidelines will help you to pick a strong niche for successful blogging.
Pick a Subject You Care About
Choosing a subject that you're passionate about is certainly an important consideration when choosing a niche. If you want to have a successful blog, you're going to be writing regularly (at least once a week) for a long time. Your content will become dry and boring very quickly if you're not personally interested in your topic. Your readers will absolutely notice if you are not excited about your topic.

Of course, there will be days when writing a blog post isn't your favorite activity, but overall, your blog needs to give off a sense of expertise and enthusiasm. The more you know and care about a subject, the better you can write about it, and the more readers will want to read your content. Choosing a niche you're passionate about will also help to motivate you and keep you writing in the long term.
Choose a Profitable Niche
If you want to make money from your blog, you also need to choose a niche that has some potential for profit. This means deciding on a niche that a substantial number of people are also interested in. One way you can figure this out is by using a keyword analysis tool, such as Google AdWords Keyword Planner or Copyblogger's Keyword Research.

Try entering in keywords related to your subject and see how many searches people are doing for those terms. You want to choose something that's getting at least a few hundred monthly searches to ensure that some traffic comes to your site
To choose a profitable niche, you'll also want to consider the potential for advertising. In order to effectively monetize your blog, you'll need to find advertisers who want to reach your target audience. Off of the top of your head, can you think of at least 3 companies who might be interested in advertising on posts about your niche topic? If not, you might not have much potential for advertising revenue, and you might need to come up with a different niche.
Choose a Niche of the Right Size
One of the trickiest things about choosing a niche for your blog is picking something that's the right size. If you choose something too general, you risk being lost in a sea of search results. If you choose something too specific, your target audience may be too small.

When you're coming up with an idea, try creating a list of variants of the same niches, ranging from the most general to the most specific. Then you'll want to pick something around the middle. Niches such as "Travel" and "Business Marketing" are likely too broad. You'll be competing with thousands of other websites with the same keywords, and you'll miss out on readers who are looking for something more specific. "Budget Backpacking" and "Marketing for Landscaping Businesses" are more specific but still have significant target audiences.

With a more specific niche, you'll have less competition and are more likely to draw in readers who are looking for more targeted information. Just be careful not to go too narrow, as you'll potentially be writing hundreds of posts on this topic.

Remember that you can tweak your niche a bit as you build your blog. If you start with too wide of a focus, you can decide to make it more specific and write posts within a smaller area of interest. Conversely, if you realize your niche is too small, you can add a variety of posts to broaden your subject. This is easiest to do if you choose a niche to start with that has a bit of flexibility for expansion or contraction.

If you do your research and choose something that you're passionate about, your niche is likely to help make your blog successful.
Choosing A Blogging Platform
When you want to start a blog, one of the first things you'll need to decide is where you want to host it. The two most popular blogging platforms are Blogger and WordPress.

Both Blogger and WordPress have their own benefits and may be the best choice for different people.
If you plan to take your blog seriously, WordPress is probably the best option for you. It grants you far more control and possibilities for customization. When you're trying to make money from your blog, this can help a lot. You will also own all of your own content, without concern that your site might be closed by Google outside of your control. For these reasons, WordPress is usually the choice of experienced and professional bloggers
Setting Up A WordPress Blog
In this section we are going to guide you through the relatively simple process of setting up a WordPress blog.

First of all, you'll require a web hosting account and a domain name for your blog (a .com is ideal because it appeals to people across the globe)
Web hosting can be bought very cheaply from various companies, but try and get one which uses C-Panel. This makes setting things up much easier.
Step 1: Get your Domain And Hosting
This is the first and basic step to be completed to setup a blog. You need to buy a domain and hosting. It cost you around Rs.3000 to 4000/year. We cannot create a blog without hosting and domain. Generally hosting and domain rent are paid yearly.Some people pay for 5 to 10 years also.
As a beginner you need to pay for first year. After that you can renew according to your preference.
Here we are going to use Bluhost platform for buying a domain and hosting. There is no fee for your domain in the first year.
Click Here To Buy Your Domain And Hosting. (Free Domain Discount Added)
Watch Video Tutorial Below
Now have your ready to use blog and admin panel. Its time to create your post and pages. Try to add atleast 1 post every 2 days.